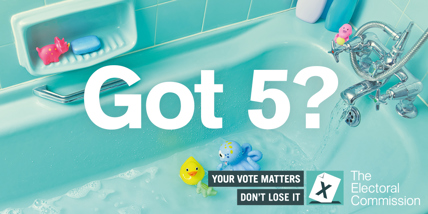 There's just over a month to go until Broxtowe voters will be asked to elect members of Nottinghamshire County Council, the new Police and Crime Commissioner for Nottinghamshire, Stapleford South West Borough Ward and Brinsley Parish Council and Broxtowe Borough Council is urging residents to make sure they're registered to vote so they can have their say.
The election will take place on Thursday 6th May and anyone who is eligible to vote has until Thursday 19th April to register.
If you are eligible to vote in the election and are already registered, there's no need to register again.
Registering is simple to complete in just a few minutes online at www.gov.uk/register-to-vote (Opens in a New Window) or check if you are on the register or not at www.broxtowe.gov.uk/registrationcheck.
Voters are being reassured that voting will be safe for everyone, as safety precautions will continue to be reviewed with public health authorities as preparations are made for the elections. You can expect many of the measures you've become used to such as hand sanitiser, floor markings and face coverings.
If you're thinking about voting by post in this year's May elections, you can apply to do this now. This will make sure your application is processed early, and your postal vote can be sent to you more quickly once the candidates for the elections are confirmed. To do it online visit www.gov.uk/voting-in-the-uk (Opens in a New Window) or you can ring or email our Electoral Services on 0115 917 3250/3276 or elections@broxtowe.gov.uk to get a paper copy.
Being on the electoral register is important not only to enable people to vote, but also when applying for things like a credit card or a mortgage as this can help validate information you provide.
For more information, please contact Broxtowe Borough Council on 0115 917 3250 or 3276, email elections@broxtowe.gov.uk or visit www.broxtowe.gov.uk/elections.
You can also find out more information at www.aboutmyvote.co.uk (Opens in a New Window) or register to vote at www.gov.uk/register-to-vote (Opens in a New Window).