On Saturday 15 January 2022, The Mayor of Broxtowe, Councillor Richard MacRae, accompanied by Beeston North Ward Councillors Barbara and Steve Carr will be holding a bicycle marking event on Beeston Fields Recreation Ground.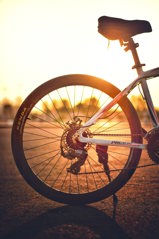 The event is the first in a series of Borough-wide initiatives forming part of Broxtowe Borough Council's new Bike Theft Prevention Plan.
Using the UK's national, police approved, bicycle marking and registration scheme; BikeRegister, children and adults can come along between 11am and 1pm and get their bike registered for free.
The scheme works by adding your bike to a national database, which now has over one million bicycles registered. You will receive a laminated, tamper resistant warning label with a unique QR code that can be scanned instantly with a smart phone.
Registering on BikeRegister(Opens in a New Window) means you could be reunited with your bike in the event of it being stolen, and the labelling acts as a deterrent to would-be thieves.
Just bring your bike and a smart phone and we'll do the rest.